The Neighborhood Food Network is you.
You are the ones to initiate and facilitate on your street.
The network is all of your neighbors, local gardeners, local gardening stores,
your local CSAs, small farmers, and coops.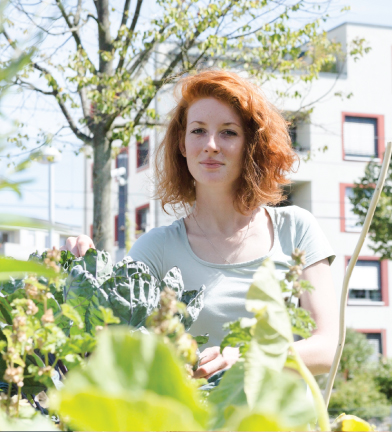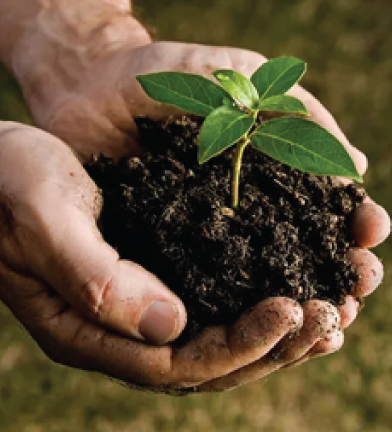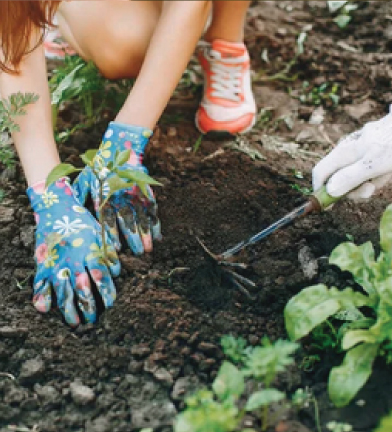 We, the program organizers, are behind the scenes, supporting you to support others. You will help create a national network that will give rise to personal empowerment and community freedom!
The Neighborhood Food Network is an LLC in the process of becoming a 501(c)(3) nonprofit.
The Neighborhood Food Network solely focuses on food and community building.
Our Founding Executive Director, Zen Honeycutt, is a mother, author, speaker, gardener, and steward of 40+ animals at a small farm in North Carolina. The Neighborhood Food Network program coordinator, Anne Temple, is a graphic designer, speaker, blogger, and gardener of a 1/4 acre urban backyard garden in Wisconsin. Our other team members are in California, Florida, South Carolina, Washington, etc.
All across America, people realize that the pathway to a safe, healthy, thriving future lies in our hands, not the government's, and it is time to get those hands in the soil and grow healthy food.
We welcome new partners, experts, sponsors, and individuals passionate about growing food and supporting community empowerment! Contact us here.
Neighborhood Food Network Facilitators who donate $3-10/month will receive a
customized NFN business card that you can download and print at home!
To donate to support the Neighborhood Food Network and create a legacy of
empowerment, health, and food freedom, you may mail a check with NFN in the subject line to:
The Neighborhood Food Network
149 Weaver Blvd
#107
Weaverville, NC 28787
Or donate online. We encourage all NFN participants and supporters to become monthly supporters.
We accept both cryptocurrencies such as Bitcoin and FIAT currencies such as the US dollar.
Thank you for your support. This critical work cannot happen without you!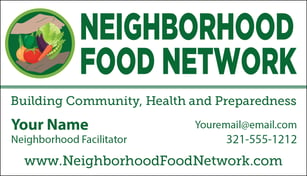 How We Set Up The Neighborhood Food Network on Your Street
Note: We are currently in the Pilot Program year, the first phase of this program. The following steps may change and will expand throughout 2022. In 2023 we will launch this nationwide program with expanded resources and partners. Contact us here to be a part of or support the limited pilot program.
Join us on our weekly Monday night call at 8:30 pm ET, hosted by Moms Across America. The Moms Connect Calls start at 8:00 pm ET for mothers and others committed to creating healthy communities. The Neighborhood Food Network pilot program will be the focus from 8:30 to 9:00, with Q&A until 9:15. You will receive the step-by-step actions to take each week: how to get prepared for the weekend activities and what materials to gather if needed. Sign up here for the invitation by Monday at 9 am ET.



Pick a date for your first Neighborhood Food Network meeting. Then download one of the flyers we provide here. Choose to have an introductory meeting or a potluck with some drumming or music if you are inclined! Food and music bring people together. Have the gathering like a block party, cul-de-sac, front or back yard on your street.



Facilitate. Use our guidance and resources for the structure of the meeting. As the facilitator, you do not need to know how to grow the food. You need to believe you and your neighbors can. We will provide the steps, planning, names of materials required, free and budget-friendly options, and experts to coach.



Participate. Be ready to get your hands in the dirt, meet new people and feel fulfillment, empowerment, and happiness! Anyone who has grown a juicy tomato bursting with flavor knows. It may be challenging at times, but we promise if you are willing to learn something new and set aside your fears to create a healthy community, the rewards will be beyond what any of us can imagine.



Share. Come back on the Monday night calls and share! Share this initiative with your neighbors so that they initiate the program on their streets. Share your vision for a safe, healthy, thriving neighborhood. Share your joy of learning about or growing food. Share the caring person you are with others by simply going up to their door, knocking, and saying, "Hi, I am your neighbor. Can we talk about our street and neighbors for a few moments?" Enthusiasm is contagious!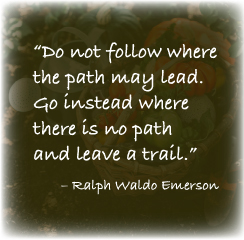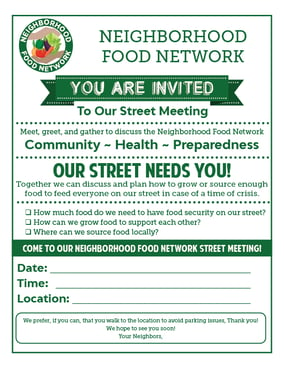 Note: this website is under construction. Many more resources are on their way. Contact us here with potential partners, videos, blog pages, potential sponsors, product recommendations, etc.
Thank you for your partnership!
What the Neighborhood Food Network is NOT
The Neighborhood Food Network (NFN) is not a federal government program. It is not a free food program subsidized by our government, nor is it funded and dictated by our government.
NFN is not corporate-run. Although we may eventually have sponsors, such as seed or gardening companies, these companies will not dictate the decision-making. You will. NFN is your program on your street.
NFN is not a for-profit initiative. The primary host of the free coaching calls, Moms Across America, is a 501c3 non-profit. The organizers coordinating the program fundraise separately to be able to pay basic bills. No one is looking to profit from your efforts, anyone's personal information, or marketing to you. The products or resources offered are only to support your efforts. We may ask participants to donate a monthly contribution to help us pay the website fees and admin costs. Still, we never want anyone to not participate based on financial restraints.
NFN is not responsible for any injury or loss by participating in the program. We have to make this legal disclaimer. You are responsible for hosting all events, gardening, or any activities affiliated with the program. Any activities on your street, personal property, or community property and any insurance or liability issues remain solely at the responsibility of those property owners. In short, be safe, be responsible, and expect these same behaviors from others.
NFN is not a community, school, or church garden program. It may include a community, school, or church garden, but this program focuses on making sure everyone on your street has access to food primarily sourced from your street. Keeping the focus hyper-local, meaning your street or immediate neighborhood, ensures every person is accounted for and keeps the numbers manageable. Our primary focus is turning your street front and back yards into food forests, abundant food gardens, and sources of food freedom.
NFN is not a program with a requirement to grow food. Although our primary focus is to support everyone to grow food, some people may be disabled or incapable of doing so and can still be part of the network. We encourage them to be the ones to source the local CSA's, small organic farms, and coop resources for staple bulk items like wheat, meat, or dairy and arrange the bulk orders. They can also donate land, fruit trees, seeds, wood chips, or other resources.
NFN is not a place for political debate or profit-making. We suggest that you create a safe space for all people of all affiliations and beliefs - with no political, religious, or product selling pressure at any meetings by simply stating ground rules at the beginning of the meeting. We make resources available related to growing, preparing, or preserving food. We will empower you to stay focused on growing and sourcing local food, share the information and connect them to the best resources and methods available. Our goal is to provide as many free methods as possible.
The Neighborhood Food Network is our access to food freedom. It is a community-building, health-supporting, compassion-creating initiative that could be what saves the lives of you and your neighbors in a time of crisis. Crisis or not, this initiative, which we ask you to facilitate, will create a community you can be proud of and a thriving future for your children. Thank you!
Have questions that you could not find on the website?
First, we invite you to join us on our Monday 8 pm ET calls. Click here for the invitation.
Or email us below. We will do our best to return an email or call within 48 hours.
Please send all mailed communications to: